Our mission is to support homeless veterans in our community in their efforts to achieve greater self-sufficiency and obtain permanent housing.
Freedom House is a 9-bed transitional housing facility for homeless veterans. We provide 24/7 support and structured and engaging therapies throughout the week, which include art therapy, music therapy, life skills, and stress management. Each veteran is provided with an individual room during their stay and lives at the Freedom House for an average of 6 to 12 months with an end goal of gaining permanent housing.
We strive to improve the quality of life for our veterans, and we do this by providing support through intensive case management and access to community resources dedicated to enhancing self-sufficiency. Case management is provided by the support workers at Freedom House. Each veteran will work with their support worker to create an individualized plan which focuses on self-sufficiency, re-engagement with the community, and maintaining a healthy lifestyle.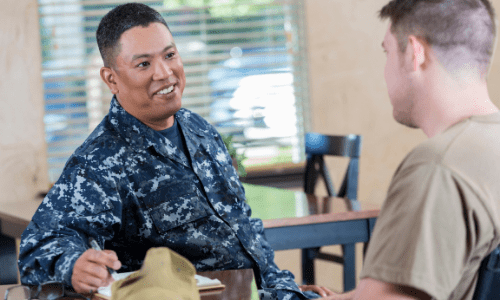 Eligibility for enrollment with Freedom House includes:
Must be a veteran
Must be homeless
Be at least 18 years of age
Be able to live in an environment with people from a variety of backgrounds, sexual orientations, race, color, cultures, disabilities, and ages
While living in our facilities, veterans can be provided with bus passes, security deposit assistance, rent assistance, help with finding or maintaining employment, referrals for assistance to obtain benefits, and more.