St. Joseph's Early Learning Center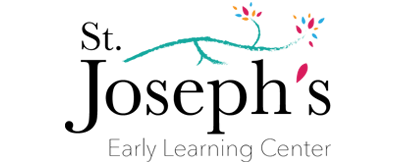 St. Joseph's Early Learning Center provides quality care and education for children six weeks through five years old.
94¢
of every dollar donated goes toward direct service.
100,000
people are served each year through our programs.
3,500
individuals volunteer every year.
St. Joseph's Early Learning Center provides quality care and education for children six weeks through five years old.
The program is designed to enhance the social, emotional, cognitive and physical growth of children birth through age five; as well as children in grades K-12. The center is committed to a joint partnership between parents and staff, which promotes each child's development, while strengthening and supporting the family. The program is based on the premise that children learn best when they are actively involved in activities that interest them.
The center uses The Creative Curriculum as their guide. A rich and carefully organized environment is the foundation for the curriculum. Within the environment, child initiated activities and play are emphasized. Teachers plan and facilitate themes to stimulate and support the interests of children, foster creativity and promote individual development. This play-based curriculum provides a framework for meeting the needs of individual children in innovative and responsive ways.
MIXED AGE GROUPS
The center's three classrooms are mixed age settings. The infant room enrolls infants from six weeks to 18 months. The toddler room is comprised of children ages 18-36 months. The preschool room is made up of children ages three, four and five. Children enrolled in the preschool room must be toilet trained.
This mixed age grouping is consistent with the natural mixed age settings of families and communities. Classrooms are designed to foster social relationships, allowing older and younger children to learn from and support one another. A wide variety of materials give children the opportunity to develop individually. The mixed age group also gives children the opportunity to remain with one teacher and one peer group for a long period of time, which leads to strong social relationships. We believe this stable, familiar and nurturing environment will enhance the social and emotional development of children.
TRANSITIONING
When children are developmentally ready, they will move to the next age group. Infants can move to the toddler room when they are 18 months of age. Toddlers can move to the preschool room when they are three and completely potty trained. Social maturity, academic readiness and special needs will also be considered before transitioning begins.
When a child is considered ready to move on (by both parents and staff) a written agreement for transitioning to the next age group will be completed. This agreement will specify the beginning and ending date of the transition period. It will also include a schedule for visiting the new classroom. Staff and parents/guardians shall sign this agreement, which will be kept in the child's file.
Program Mission
To provide quality care and early childhood education.
2617 Waterloo Rd.
Mogadore, OH 44260
P: 330.628.9550
F: 330.628.6084