The Amelia DiGirolamo Center of Hope
Our mission is to fill the gap in food needs experienced by vulnerable residents of Portage County.
The Amelia DiGirolamo Center of Hope provides hot meals six days a week in a warm and welcoming atmosphere. We are dedicated to enhancing the nutrition of low-income families while striving to go the extra mile by serving our guests with love, compassion, and respect by providing the hope and encouragement they need.
The Christian Cupboard, our food pantry, provides orders once a month to income-eligible households. The pantry offers classic grocery staples in a choice pantry style, where our guests select what groceries they receive.
In addition to these regular services, we also provide seasonal support to further help our community. In the spring, we collect and distribute donations of Easter baskets. In the fall, we collect and distribute school supplies for children going back to school. Then during the Winter, we provide boxes of food for Thanksgiving and Christmas, as well as host a toy drive for individuals and families in need.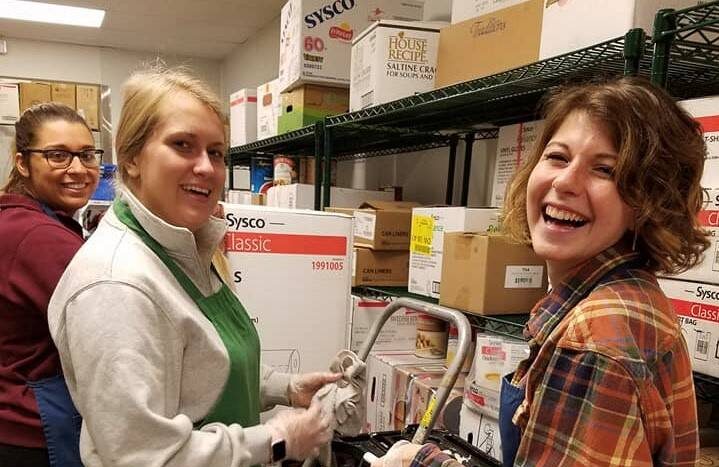 We serve the communities of Ravenna, Ravenna Township, Charlestown, Wayland, Edinburgh, North Benton, Palmyra, Eastern Palmyra, Diamond, Paris Township, Deerfield, Newton Falls, and Rootstown. There are no eligibility requirements to receive one of our daily hot meals. If you're hungry, we will provide you with food, no questions asked.
If you are in need of groceries, you can receive them through the Christian Cupboard food pantry. Your eligibility to receive groceries through the pantry is determined by total household income. The pantry is available once a month, and appointments are encouraged. You will be required to present a photo ID at every pantry appointment and proof of residency once a year.
To learn more about income eligibility for groceries or to apply, please review our Income Eligibility Form.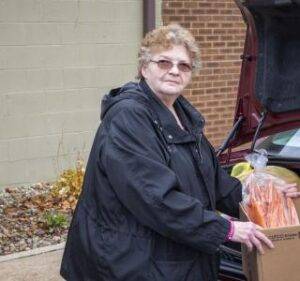 "Because of the food Diane receives here, she's able to ensure her bills are paid each month. Living on social security and a modest pension help her get by, but she admits she lives paycheck to paycheck. If it weren't for Center of Hope, she knows things would be much more difficult for her.
– A Story from the Akron Canton Foodbank